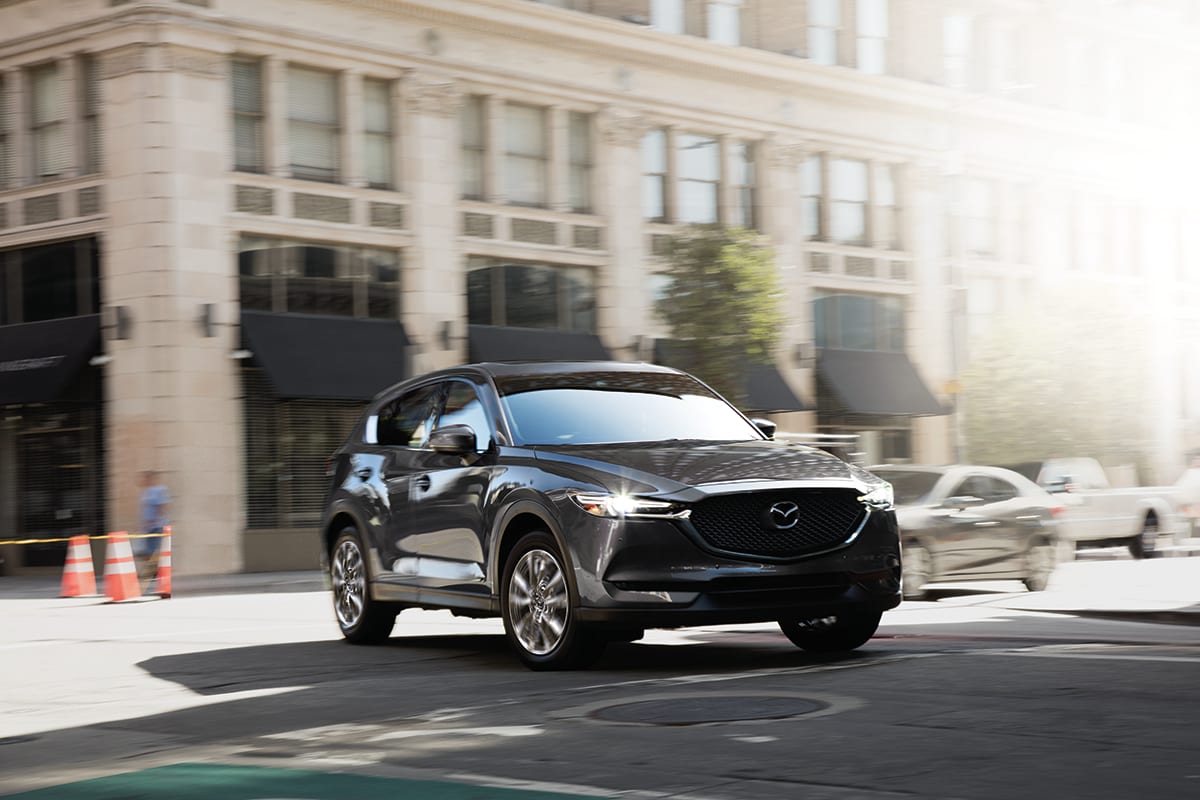 Last year's Mazda CX-5 joined many of its Mazda siblings in earning an IIHS Top Safety Pick Award and the 2020 model is certainly picking up right where it left off. CX-5 seamlessly combines design and style, safety, luxury, performance, and technology to craft one of the finest driving machines on the road, and its fan base simply cannot get enough of it.
Starting with styling, the 2020 Mazda CX-5 has added several premium notes to the already luxurious and well-designed interior. Genuine, wood layered trim, gentle cabin lighting, which creates a subtle ambiance, and high-end Nappa leather all work together to make the cockpit feel like a trip in a luxury suite on wheels. The 19-inch alloys both highlight and work together with the smooth and winding exterior curves to create a work of art on the outside as well.
It also comes with an optional turbocharged engine that is available in the Grand Touring Package. Offering the Skyactiv -G 2.5T motor, it is capable of generating as much as 250hp and 310lbs. of torque for maximum power and acceleration. Another efficient aspect of this highly advanced engine is the fact that it can produce these numbers at only 2500 RPM, reducing strain and wear and tear on the engine, as well as reducing fuel consumption. The dynamic pressure turbocharger offers instant response times to eliminate the lag and delay which is common in many other supercharged engines.
Our helpful and friendly staff here at Koeppel Mazda would love for you to come take a look at the 2020 Mazda CX-5 the first chance that you get. We will be glad to demonstrate its features, as well as take you for a test drive if you're interested. We are located at 77-12 Northern Blvd in Jackson Heights, NY 11372. Come on by as soon as you can!
Hours
Monday

9 a.m - 9 p.m

Tuesday

9 a.m - 9 p.m

Wednesday

9 a.m - 9 p.m

Thursday

9 a.m - 9 p.m

Friday

9 a.m - 7 p.m

Saturday

9 a.m - 7 p.m

Sunday

11 a.m - 5 p.m