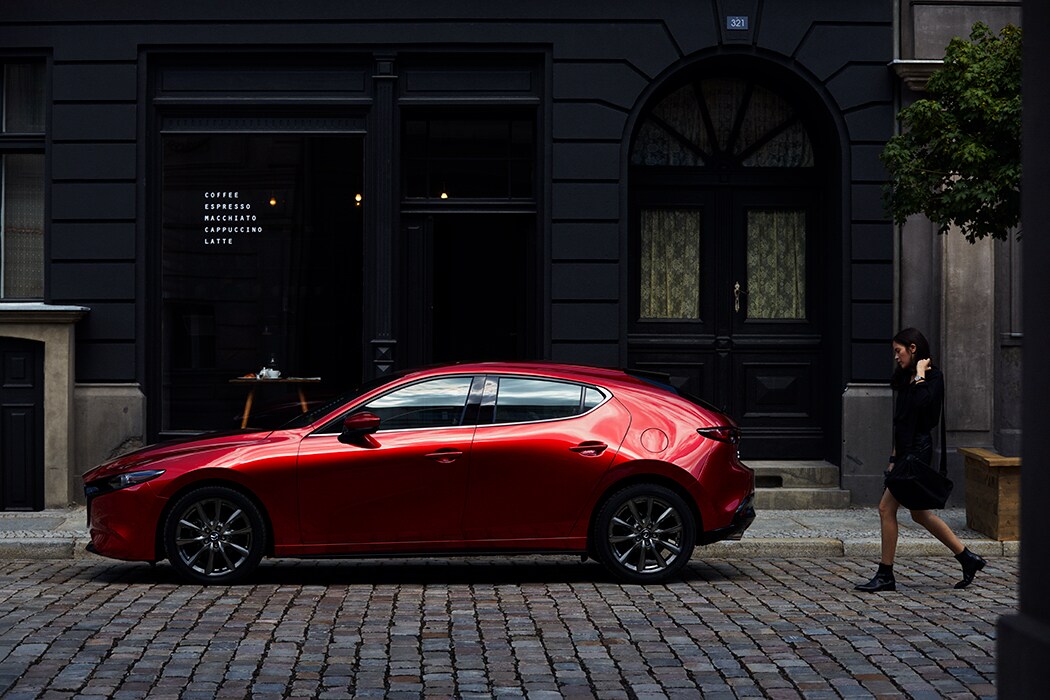 The 2020 Mazda3 Hatchback had already created quite a buzz when it was first revealed at the auto shows leading up to the new model year, and now that they are hitting the showrooms folks are lining up to take them out for a test spin. With already a host of awards and positive critical reviews under its belt, one of the most noteworthy opinions comes from Kelly Blue Book which states that the Mazda3 Hatchback may very well be the best handling car in its class.
When you add to that high praise the fact that it offers blind-spot monitoring and rear cross-traffic alert, you have one of the safest and most reliable vehicles on the road. The 18" alloy wheels couple perfectly with the sporty color options available such as Soul Red Chrystal Metallic and Snowflake White Pearl Mica.
The interior design is one of comfort and convenience, molded specifically around the needs and preferences of the driver. The driver's seat fits like a glove and all of the features and displays that need to be reached are easily accessible without disrupting the driver's focus. The 2020 Mazda3 Hatchback also boasts some seriously impressive tech in the form of Apple Carplay integration and the intuitive Mazda Connect Infotainment System.
The i-ACTIV AWD system monitors everything from weather conditions to windshield wiper use to the driver's braking and steering patterns. When it comes to safety and performance, this new model is certainly worth a closer look.
To slide into the seat of one of these impressive new 2020 Mazda3 Hatchbacks, just drive on over to Koeppel Mazda. You will find us at 77-12 Northern Blvd, Jackson Heights, NY 11372. Don't let one of your friends or coworkers be the first to show up with this incredible ride!
Hours
Monday

9 a.m - 9 p.m

Tuesday

9 a.m - 9 p.m

Wednesday

9 a.m - 9 p.m

Thursday

9 a.m - 9 p.m

Friday

9 a.m - 7 p.m

Saturday

9 a.m - 7 p.m

Sunday

11 a.m - 5 p.m