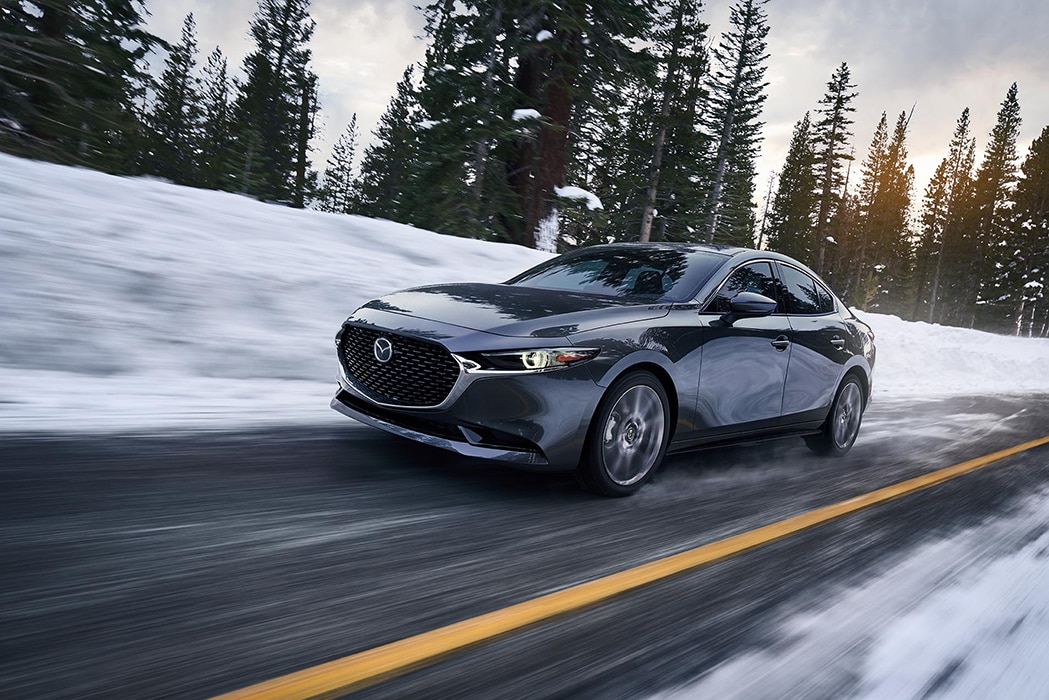 The Mazda3 Sedan has been a favorite for countless brand loyalists for years, and the 2020 model is sure to add to that already booming fan base. Joining its older sibling the Mazda6 as an IIHS Top Safety Pick in 2019, the new model certainly doesn't give anything up while adding some impressive new options and amenities in the New Year.
One of the most innovative features on any vehicle in production, the i-ACTIV all-wheel-drive system makes driving in poor weather conditions significantly safer by anticipating the possible loss of traction beforehand and making preemptive adjustments to counteract the effects. This is just one of the many high-tech safety features that Mazda has become known for.
Other impressive features on the 2020 Mazda3 Sedan include a lane departure warning system and driver attention alert. These key safety components help to make this vehicle one of the safest on the road, and the 186hp SKYACTIC -G engine offers quick acceleration and sustained power, all while providing better handling and response.
Both the exterior and interior designs display high levels of craftsmanship and visual appeal, while still maintaining a simplistic and functional elegance that has become synonymous with Japanese style. The reduced road noise allows the driver to enjoy the sounds emanating from the twelve premium Bose speakers placed throughout the vehicle, while still making sure that important sounds such as sirens and horns are easily detectible.
If you are ready to see what all the hype is about, then head on over to Koeppel Mazda and get a firsthand look at the new 2020 Mazda3 Sedan. We've been at the same convenient location for years, 77-12 Northern Blvd in Jackson Heights, NY 11372. Come let us show you why this vehicle is flying off of the showroom floor!
Hours
Monday

9 a.m - 9 p.m

Tuesday

9 a.m - 9 p.m

Wednesday

9 a.m - 9 p.m

Thursday

9 a.m - 9 p.m

Friday

9 a.m - 7 p.m

Saturday

9 a.m - 7 p.m

Sunday

11 a.m - 5 p.m