NY Mazda 3 | New York Car Dealer
The 2014 Mazda 3 is here and ready to impress. It truly is a standout car in a long line of compact cars with its new redesign that flaunts an attractive new styling, better gas mileage, and added safety features. The new five-point grille has been modified so its seamlessly sweeps back into the headlights. This sweeping continues on through the body of the car and ends at the back. The front hood of the NY Mazda 3 is now longer, adjusting the other proportions. This gives the overall impression of a sporty and cool new look that is sure to turn heads.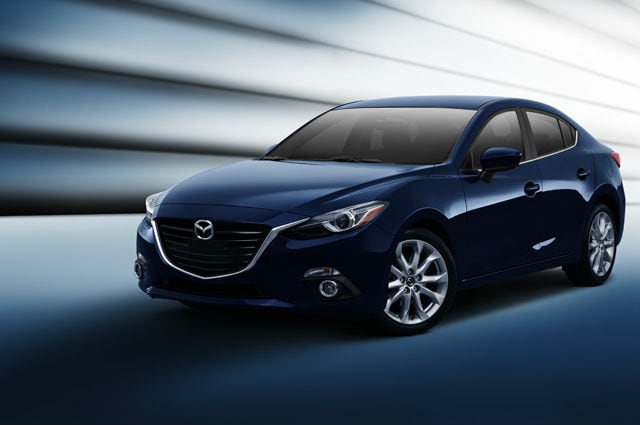 With the 2014 Mazda 3 you have two SkyActiv four-cylinder engines to choose from: a 2.0-liter 155 horsepower and 150 lb-ft of torque version or a more powerful 2.5-liter 184 horsepower and 185 lb-ft of torque version. Each option is available with either a six-speed manual or automatic transmission. The entire car has been gone over with a fine-tooth comb. Retuned springs, shocks, and anti-roll bars all help to improve straight-line stability, as well as cornering control and ride comfort. All four wheels have disc brakes and new electric power steering all add to the overall driving experience.
The gas mileage is where the new Mazda3 starts making waves. The new SkyAcitv engines are good for an EPA estimated fuel rating of up to 30 mpg in the city and 41 mpg on the highway. So with sporty driving and great fuel economy, how could it get any better? The 2014 Mazda3 was named the IIHS Top Safety Pick+ model of the year. It has six airbags—two front, side, and side curtain—that protect all passengers, anti-lock brakes, stability and traction control, and a tire-pressure monitoring system that all come standard. Knowing you are safe you can enjoy the now-standard AM/FM radio, CD player, and a USB jack and auxiliary audio input port for connecting an MP3 player.
When you are ready to take the Mazda3 for a test drive stop by our New York Mazda dealer location. You can also fill out the NYC Mazda financing form online to save time at the dealership.