NY 2016 MX-5 Miata | New York Mazda Dealer
Some driver's aren't looking for a vehicle with tons of space, that's perfect for the morning commute, or that can tear up dirt. Some driver's just want a car that's fun. This is where the newly revealed NY 2016 Mazda MX-5 Miata comes in. This convertible was design to provide its drivers with the ultimate ride.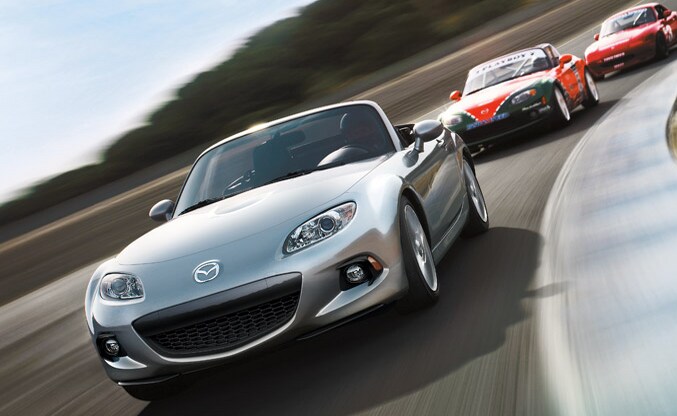 Though much is still unknown about the new Miata, what is known has caused the utmost anticipation. The Miata's body has been reconstructed to be lighter and stiffer and comes with either a soft or power-retractable hardtop. Sleek and curved, this sports still car exudes class but with a modern style. A longer wheelbase and hood as well as the retained short rear and decklid give the Miata an aggressive look. Inside, the two-seater cabin comes draped in fine leather upholstery with brilliant metallic accents. Cushioned bucket seats, pop-up cupholders, infotainment screen, and USB ports are just a few of the features that are assured to be included in the new Miata.
Also guaranteed is that the swift and responsive Miata will be powered by a strong Skyactiv 2.0 four-cylinder engine that produces 167 hp. Paired with the engine will be a 6-speed manual transmission. These mechanics not only give you the smooth, controlled drive you expect from a Miata, but they will also net you an upgraded 21 mpg city/28 mph highway. (All mileage claims in this article are EPA estimates.)
The new 2016 MX-5 Miata promises to provide a swift and fun ride. The sports car will debut in Spring of this year and we can't wait to have it for you to test drive in our New York Mazda Dealership.