Mazda vehicles are impressive pieces of machinery that deliver driving performance unparalleled in their category. Mazda models are excellent in their design, and their maintenance needs to match that quality. Servicing your Mazda vehicle can ensure that it continues to perform to the highest standards, preventing any issues from cropping up sooner than expected on the vehicle's driving history. We give you an overview here of what the team at Koeppel Mazda can help your car with.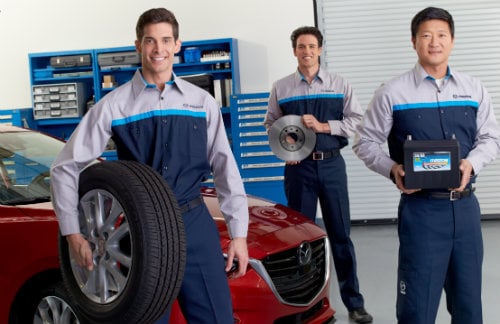 Expert Care
The service specialists at Koeppel Mazda have expertise on Mazda models developed from years of servicing all types of their vehicles. The team at Koeppel Mazda can provide engine diagnostics, air conditioning, and heater service, fluid level checks and corrections, oil and air filter replacement, preventative car maintenance, and much more. You can be sure that your vehicle is being handled by a team well-versed in all its components.
Lifetime Powertrain Warranty
The Lifetime Powertrain Warranty offered on Mazda models is a choice that is highly recommended by Koeppel Mazda's staff. The Lifetime Powertrain Warranty encompasses oil pumps, engines, piston rings, transmissions, and everything that makes your vehicle go. If you want to be sure that your car is covered beyond the exterior and electronics, this is an option we cannot stress enough.
Preventing Issues
Even the small things like regular oil changes and tire inspections can keep your Mazda in tip-top shape. Preventing is always better than having to fix an issue, and that is why our team of service men and women at Koeppel Mazda will let you know how often you should be bringing in your car for inspections. We look out for your vehicle as if it was our own.
Come service your Mazda vehicle with us today by visiting Koeppel Mazda at 77-12 Northern Boulevard in Jackson Heights or calling us at 888-856-1809. We are happy to help you keep your car running and to provide you with the latest vehicles from one of today's leading brands.